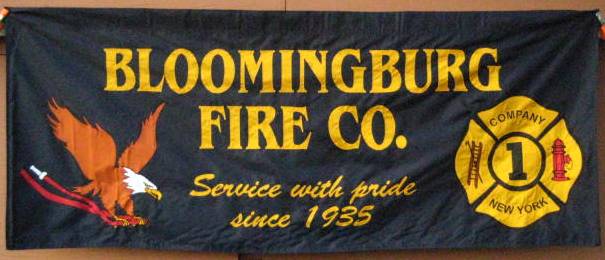 This is one of the nicest sewn fire fighter custom banners we've ever done. Rectangular banners meant for two people to carry between them in a parade are called lead banners.
Appliqué is a sewing process that renders a graphic design by layering the design elements in various fabric colors. Small details are rendered using sewing stitches. The result is a richer, more luxurious look than digital printing or silk screening. It is of course a more labor intensive process and therefore more expensive. You also can't get as much fine detail as you can with a digitally printed flag. For example, you will notice the eagle is done in solid colors. With digital printing, you could have hundreds of individual feathers. However, not every job calls for that kind of detail. If your goal is a richer, finer look and your quantity is just one banner, then appliqué is the way to go.
This customer did it right. 1) He allowed plenty of time to make good decisions. 2) They picked colors from actual fabric swatches. 3) The picked attractive and contrasting colors. 4) They came up with a nice design that is balanced, contains their eagle logo, included a firematic device and has text that makes a statement. 5) THEY WERE SPECIFIC AS TO WHAT THEY WANTED. They took their rough ideas to Design by Sue who created professional artwork that contained all the images you see in the finished banner above. They knew what their banner would look like before we began.
Size: Lead banners typically hang down 30". The most common length is 8'
PRICES: Even the simplest 30"x6' custom lead banner with letters only and no graphics will start at $450-500. There is no limit to what they can cost depending on their complexity. They can easily cost $800-$1000 and more. Each custom lead banner needs to be priced out once we see your rough design. PLEASE DO NOT TRY TO DESCRIBE YOUR DESIGN TO ME ON THE PHONE! To give you an idea of price I need to see it. Show me what you have by mail or email.
ALLOW ABOUT 5-6 WEEKS PRODUCTION TIME AFTER WE HAVE A FINALIZED READY TO GO ORDER. Then allow for time in transit. I ship my custom lead banners ROLLED, NOT FOLDED so you don't have all those creases like what you get in a road map.
CLICK ON THE IMAGES BELOW TO ENLARGE THE PHOTOS