The Music of Bobby Horton: Confederate music, confederate songs, southern music,
Homespun Songs of the C.S.A.
Authentic Songs of the Southern Confederacy - Mostly "Period" Instruments - Historical Backgrounds for Each Song
If you love the South...you'll love this music! Volume one is especially popular. We visited Bobby down in Alabama when we went down there to research the family tree. He's a heck of a guy. If you are not familiar with his work, check out volume 1. You will not be disappointed. He sings all the songs, all the harmonies, and plays all the instruments. And to boot, he records and engineers all the tracks himself in his home studio. That is why he calls these his "Homespun Songs of the CSA". We sat in and watched him do it. It is very cool.
CD's $16.00 each or any three CD's for only $42.00.
OR Check out this deal:
Buy any 3x5' or larger flag and get the CD for just $11 each
Closeout on the cassette tapes shown: $5.50 each
Vol 2, 3,4,5 limited to stock on hand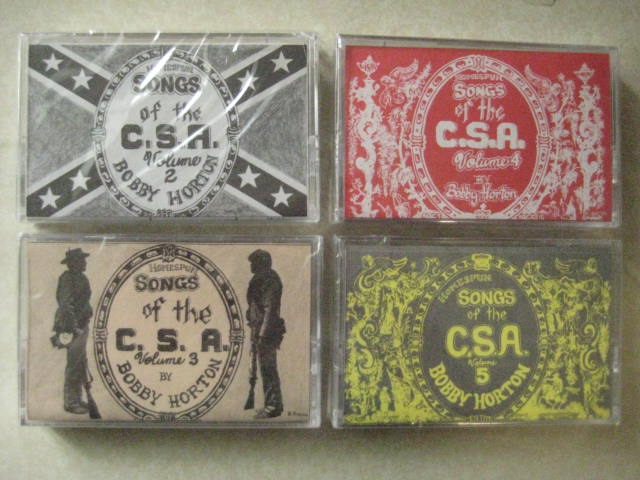 Volume 1,

CD # BHCD1
Selections: Bonnie Blue Flag - Ridin' A Raid - Lorena - Twas At The Siege of Vicksburg - Home Sweet Home - Oh I'm A Good Old Rebel - Long Ago - Dixie - Everybody's Dixie - God Save The South - Maryland My Maryland - Rose Of Alabama - All Quiet Along the Potomac - Stonewall Jackson's Way - Homespun Dress - Battle Cry of Freedom - Yellow Rose of Texas - The Rebel Soldier

Volume 3,

Tape # BH3;
Selections: Old Abner's Shoes - Cheer Boys Cheer - God Save the Southern Land - Root Hog or Die - Somebody's Darling - The Reluctant Conscript - The Southern Soldier Boy - Goober Peas - Just Before the Battle Mother (Parody) - The Captain with his Whiskers - Boys Keep Your Powder Dry - Mister Here's Your Mule - The Drummer Boy of Shiloh - Gay And Happy - Katy Wells - A Life on a Vicksburg Bluff - A Soldier's Grave - Wearing the Gray - Dixie

Volume 2, Tape # BH2
Selections: Wait For The Wagon - Virginia Marseillaise - Jine The Cavalry - Willie Boy - Evelina - For Bales - Stonewall - Requiem - Old Abe Lies Sick - Cumberland Gap - The Young Volunteer - John Hunt Morgan Song - On The Plains of Manassas - The Upidee Song - Rock of Ages/On Jordans Stormy Banks - Kennesaw Line - Dixie

Volume 5,

Tape # BH8;
Selections: Ye Cavaliers of Dixie - The Soldier's Farewell - The Cross of the South - Old Abe's Lament - The North Carolina War Song - The Cavalier's Glee - The Bowld Sojer Boy - Do They Miss Me at Home? - The Kentucky Battle Song - The Infantry - John Harrolson - The Soldier's Suit of Gray - The South Shall Rise Up Free - General Butler - The Mother of The Soldier boy - General Forrest - A Confederate - Hood's Old Brigade - The Conquered Banner

Volume 4, Tape # BH4;
Selections: Dixie - The Land of King Cotton - March of Southern Men - We Conquer or Die - The Soldier with a Wooden Leg - The Battle of Shiloh Hill - The Southern Soldier - Think of Your Head - Johnny is Gone for a Soldier - Soldier's Joy - Strike for the South - Melt the Bells - Richmond is a Hard Road to Travel - Pray, Maiden, Pray - The Brass Mounted Army - When Upon the Field of Glory - Short Rations (To the "cornfed" Army of Tennessee) - Roll Alabama Roll - Bonnie Blue Flag

The url for this page is http://flagguys.com/csa-music.html