Snap Hooks are just one component of your flagpole hardware flag supplies
Like stone being worn away by dripping water, your snap hooks will slowly be ground down. The metal grommet of your flag grinds against the snap hook. Be sure to keep up on it. Your flagpole hooks are a core component of your flagpole hardware. Inspect your snap hooks every time you change your flag. If you are paying to ship an order anyway, add one or two inexpensive snap hooks. Put them in a drawer. When they go, they are like shoelaces. You need one. Check your halyard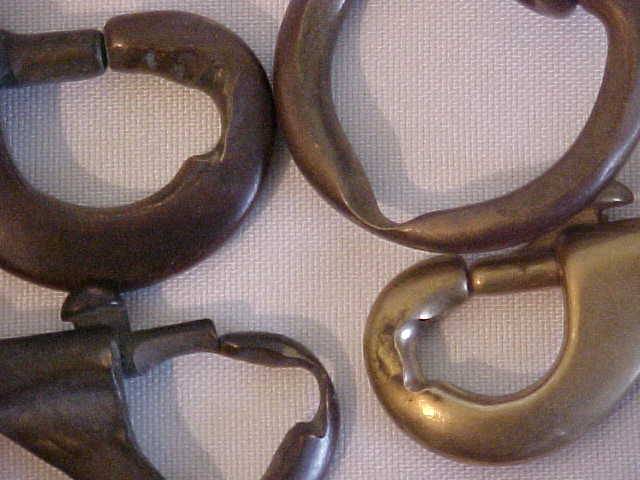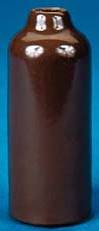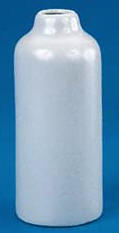 Flagpole snap hook covers stop clanging flag hooks. I recently got an order from a guy whose neighbor was complaining about the snap hooks banging on the pole
Vinyl Snap Hook Covers: Tired of hearing snap hooks banging on your pole? How to use a snap hook cover
Model#
Length
Price Each
Price Each for 12 or more
#SCS Grey
3.25"
$2.15
$1.95
#SCSB Brown
3.25"
$2.25
$2.15
Use with #DEFS or SSFS1 snap hooks

#SCL Grey
4.25"
$2.95
$2.75
#SCLB Brown
4.25"
$3.25
$2.95
Use with #PAT, FTM or SSFS2 snap hooks

Double Ender Brass Snap Hook
Model #
Length
Price Each
Price Each for 12 or more
#DS-4
4""
$4.50
$3.80
To tell you the truth, I am not sure how helpful this snap hook is in attaching a flag to a halyard or how people use them. But some people ask for them. Flagpole parts usually do not include double end snap hooks.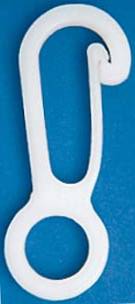 The "Minuteman" Nylon Snap Hooks.

A low cost solution when you need a lot of snap hooks for 3x5' or smaller flags. Also a solution for those who are bothered by metal snap hooks clanging on poles
Model #
Length
Price Each
Price Each for 36 or more
#MIN
2.75"
$1.85
$1.25
These are nylon snap hooks, they are not plastic snap hooks.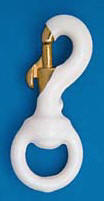 Rubber Coated Brass Snap Hook
| | | | |
| --- | --- | --- | --- |
| Model# | Length | Price Each | Price Each for 12 or more |
| #ESR-White | 3" | $9.75 | $7.95 |
| #ESR-Brown | 3" | $10.75 | $8.75 |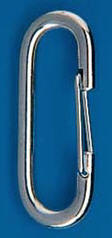 Stainless Steel Spring Clip
| | | | |
| --- | --- | --- | --- |
| Model# | Length | Price Each | Price Each for 12 or more |
| #SCLIP | 23/8" | $2.95 | $2.25 |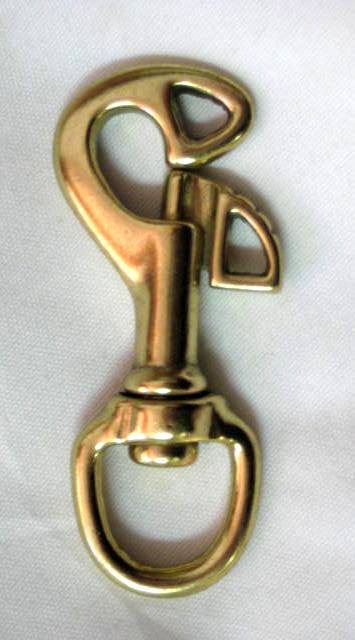 Brass Butterfly Snap Hook
Do NOT use them for your grommeted flags.
Butterfly snap hooks are a specialty item only for specific nautical purposes. They are not for use with snap hook covers
| | | | |
| --- | --- | --- | --- |
| Model# | Length | Price Each | Price Each for 12 or more |
| #BFLY | 33/4" | $7.60 | $6.25 |
How to rig a snap hook How To Re-rope a flagpole How to install a flagpole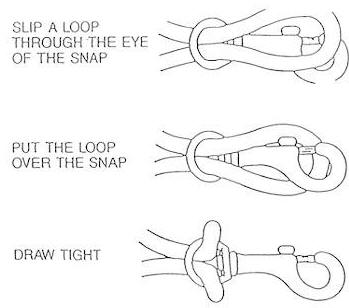 Don't use knots to attach your flag clips. Over time, the knots get so tight they are a real problem to undo if you need to change the snap hook or adjust the distance between them. Your halyard through the pole should be tied to itself forming one continuous loop. Don't use the flag to complete the loop. If you do, and something silly happens, I have seen people wind up with one end of the rope up top on the pole, the other down below, and no way to pull the rope down without getting to the top of the pole. How To Re-rope a flagpole You don't make a flagpole clip knot, you just loop the halyard over the snap hook.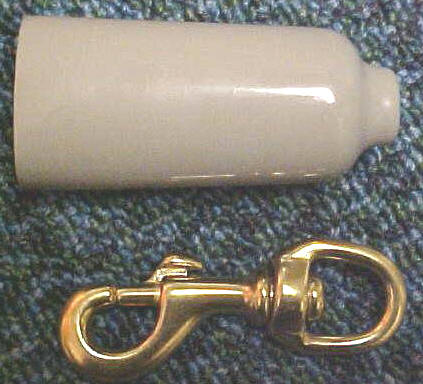 How to use a snap hook cover? Insert the snap hook into the cover snap hook cover.....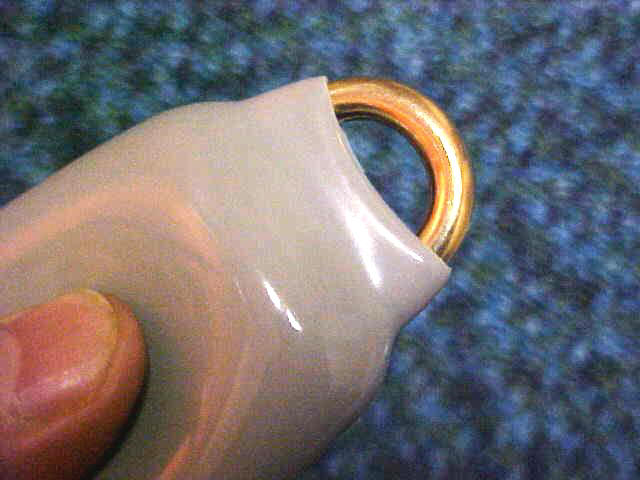 .....in such a way that you force the eye of the snap hook through the small opening of the cover.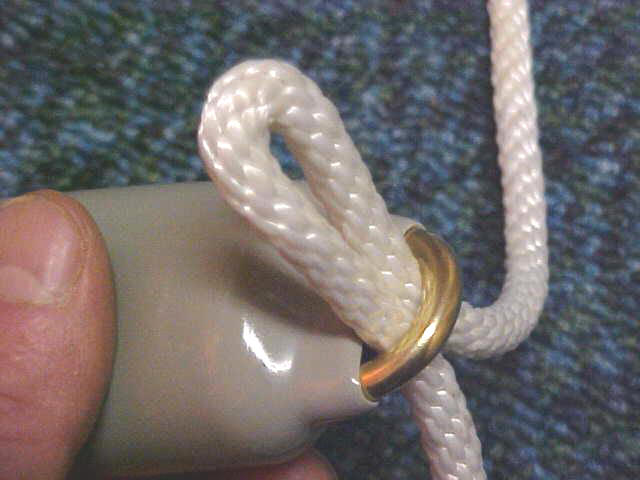 Refer to the diagram above. Loop your halyard through the snap hook just as you would if there were no snap hook cover.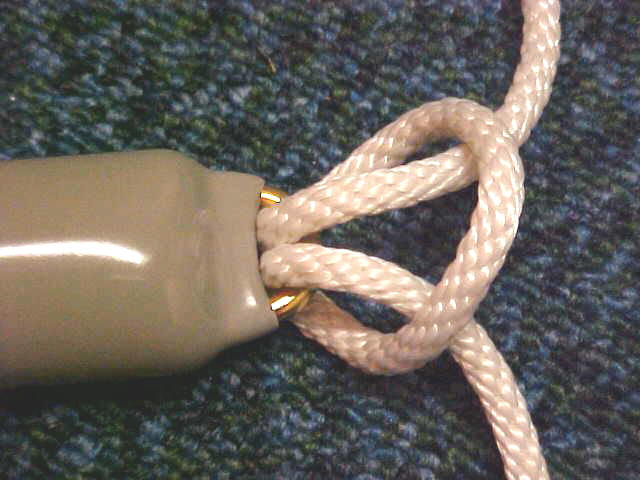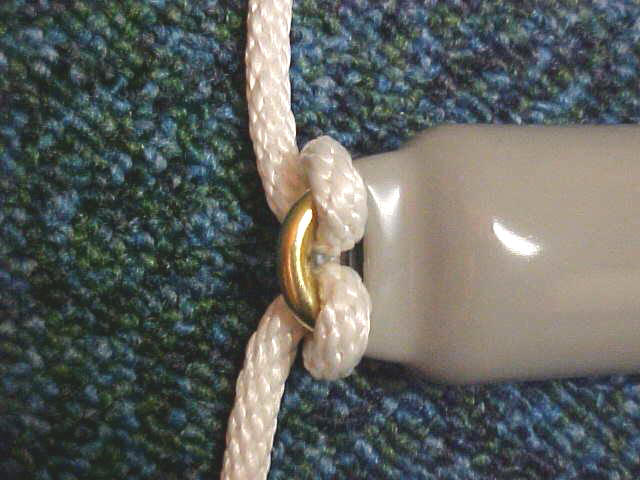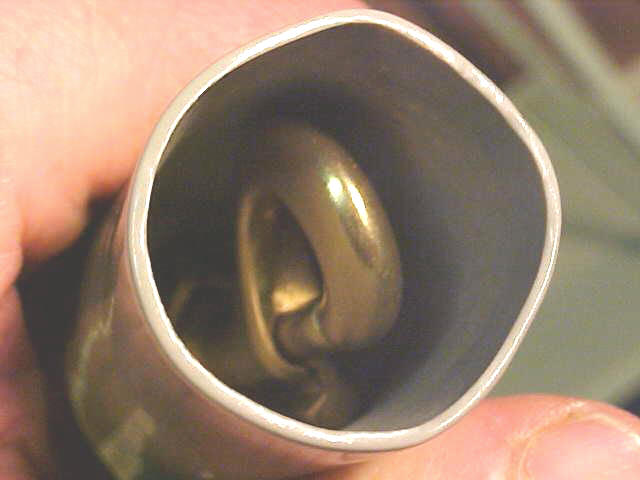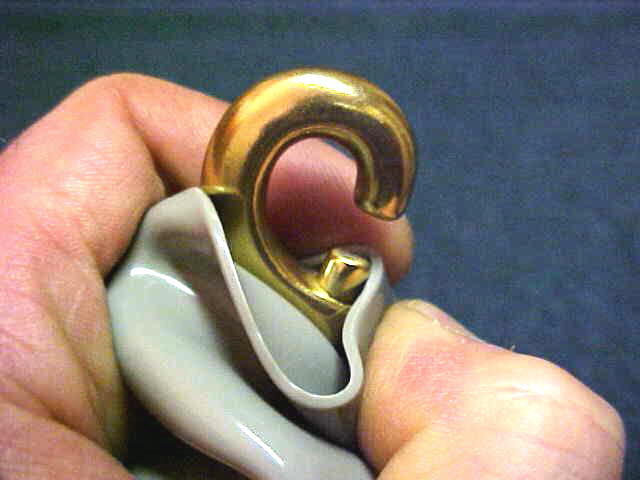 To attach a flag, push back the snap hook cover, lower the spring gate with your thumb....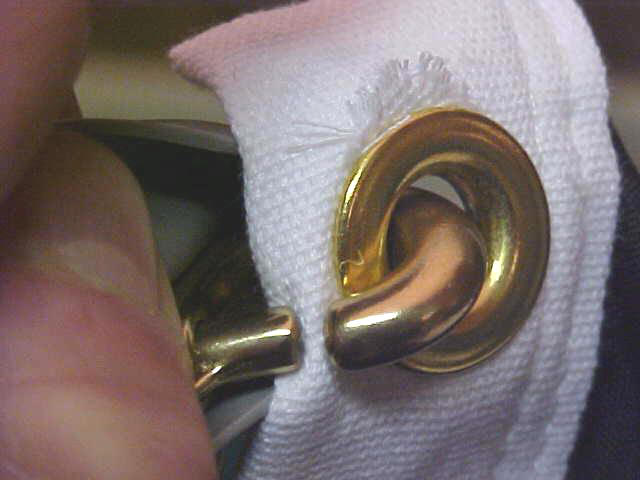 ....and hook your snap hook through your grommet.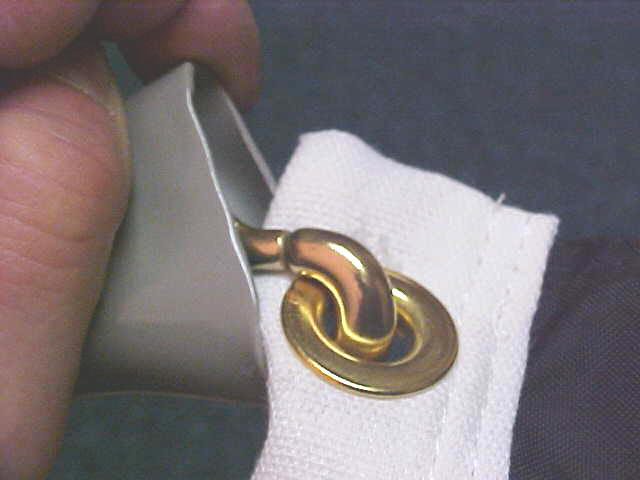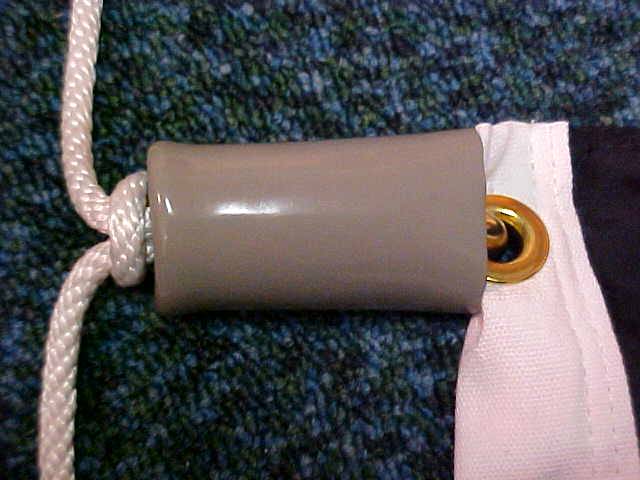 Now you have a nice sealed snap hook that won't clang on your pole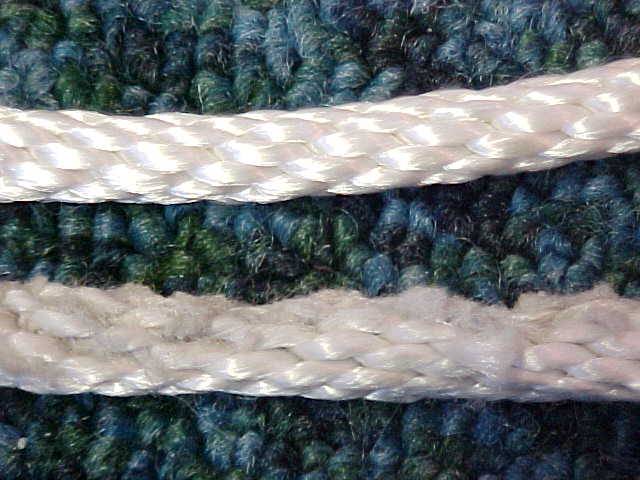 While you are at it, each time you change your flag, INSPECT YOUR HALYARD! This task should be as automatic as changing the batteries in your smoke detector each year when you set the clocks back.

It you see the halyard showing signs of wear, you are playing Russian roulette. As long as the old worn halyard is still in your pole, you can use it to pull a new halyard up through the pulley. If you let it go too long and it breaks.. well, call your local bucket truck guy and ask him how much he charges per hour.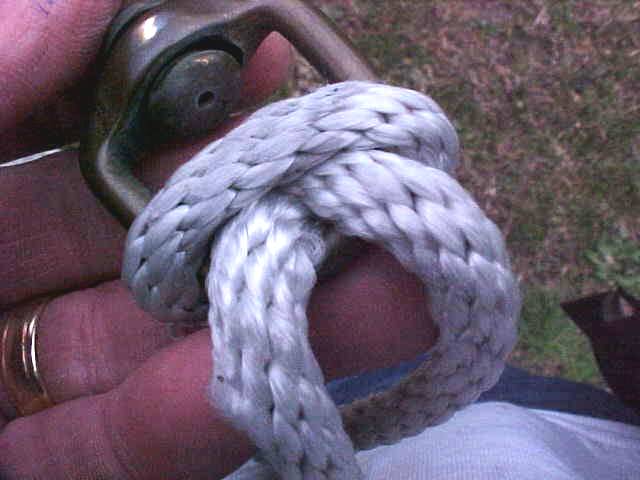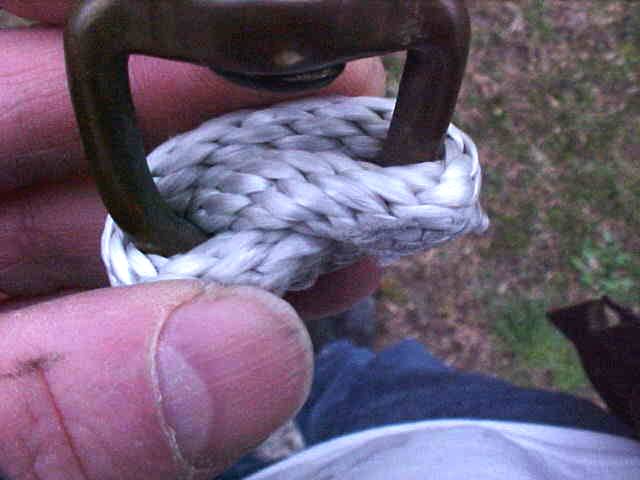 Now here is a case in point. I just changed the flag on my own 40' pole. In doing so I followed my own advice and checked the halyard. The halyard on the bottom snap hook still looked great. There is just some minor abrasion in seen in the left hand photo. But take a look at the problem I found up top.......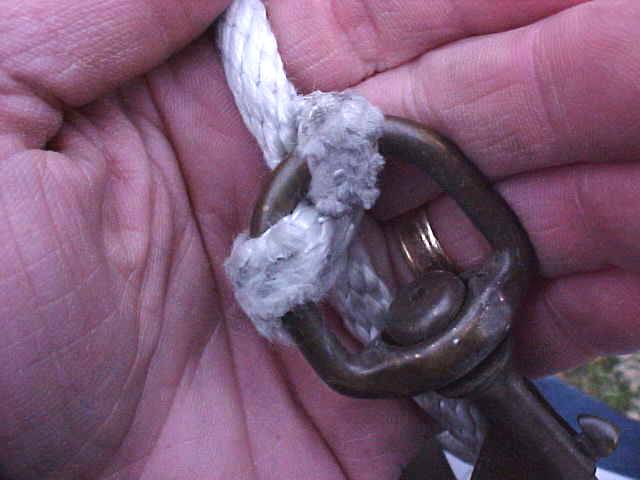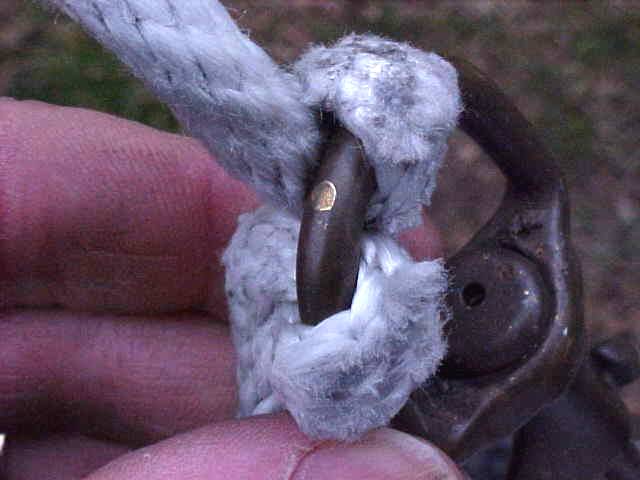 See how mashed and ground up the halyard is at the top snap hook from grinding against the pulley. This needs to be replaced or I'll be the guy on the phone asking the bucket truck guy what he charges per hour. If you have a one piece pole it just is not worth playing chicken with your halyard. This halyard will break. The only question is when. There is no answer to the question as to how long any halyard will last. Just keep an eye on it. How To Re-rope a flagpole Keep an eye on your flag parts just as you would on anything else that needs to be maintained.
Helpful Hint: Halyard wears particularly hard where the snap hooks are attached. Move the position of your snap hooks every so often to extend the life of your flagpole rope.
The url for this page is http://flagguys.com/snaphooks.html