A most unique Air Force Flag

3x5'#MILAFAP $59.00 Finished with heading and grommets

Embroidered and appliquéd design. This is not your typical silk-screened design we're all used to. Just look at this detail.

Plus, this flag is DOUBLE-SIDED! It reads correct on both sides. I had never seen a double-sided Air Force flag let alone ever think one could be offered for $59.

I was shocked when I saw it. Never had I seen so much beauty and workmanship

This embroidered Air Force flag is made in China

This double sided flag is so rich in detail, fabric layers and embroidery, it is very heavy. Accordingly it will not be as good a flyer as the silk-screened nylon flags further down this page. For viewing up close as in a parade, on a wall, or on a front porch I have not seen a more beautiful United States Air Force flag in my career.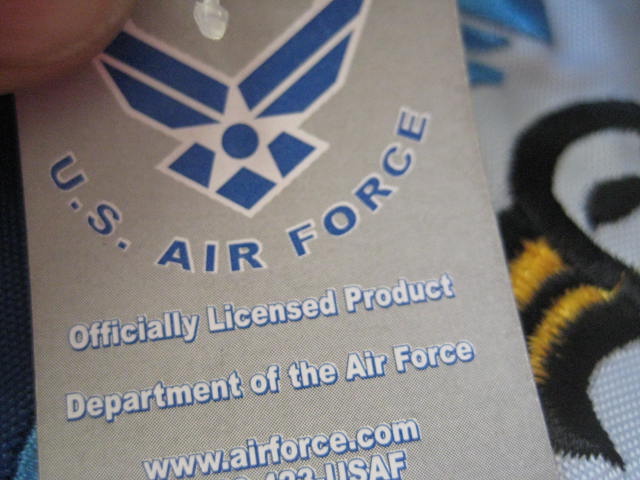 Appliquéd and embroidered double sided United States Air Force flags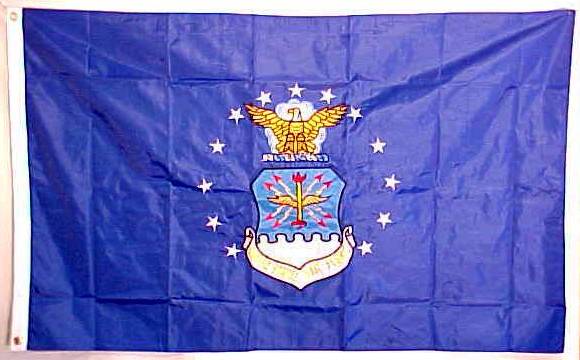 Because of all the sewing in it and its double construction, this is a very heavy flag. If you are putting it on a pole in a bracket, don't use anything smaller than a 1" diameter pole.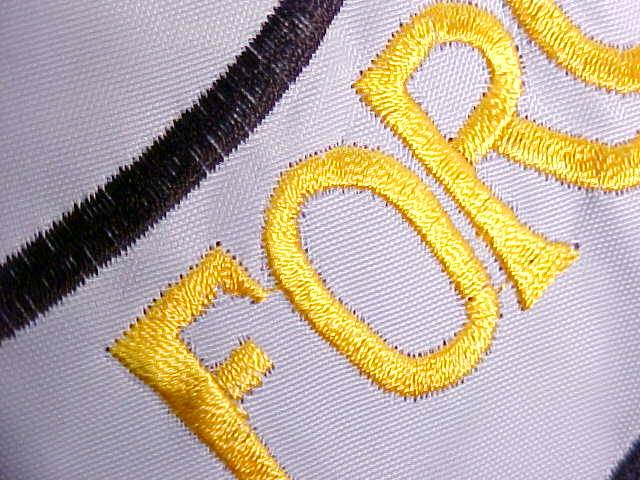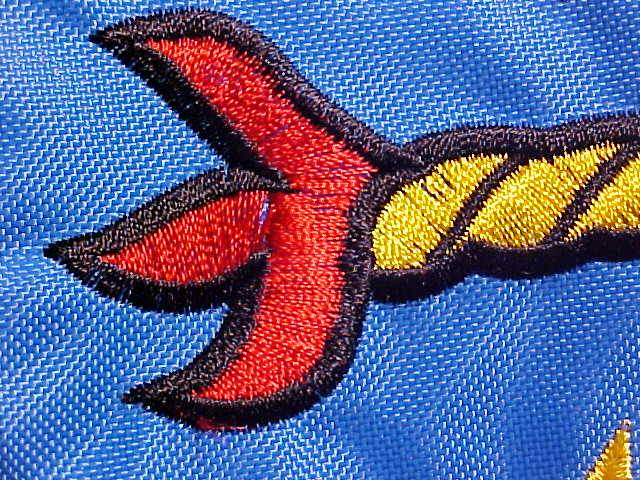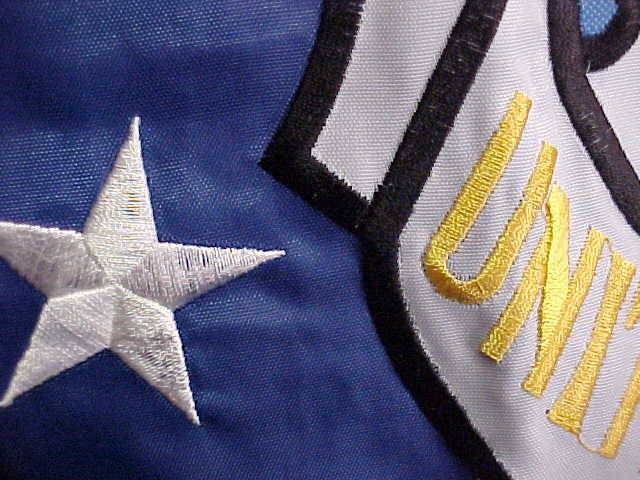 What colors, what detail, what richness. The silk-screened flags below have their advantages, but none is more beautiful than this one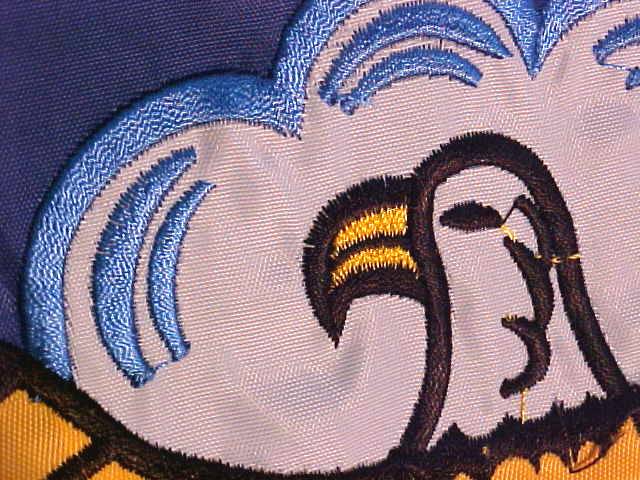 Silk screened nylon US Air Force Flags: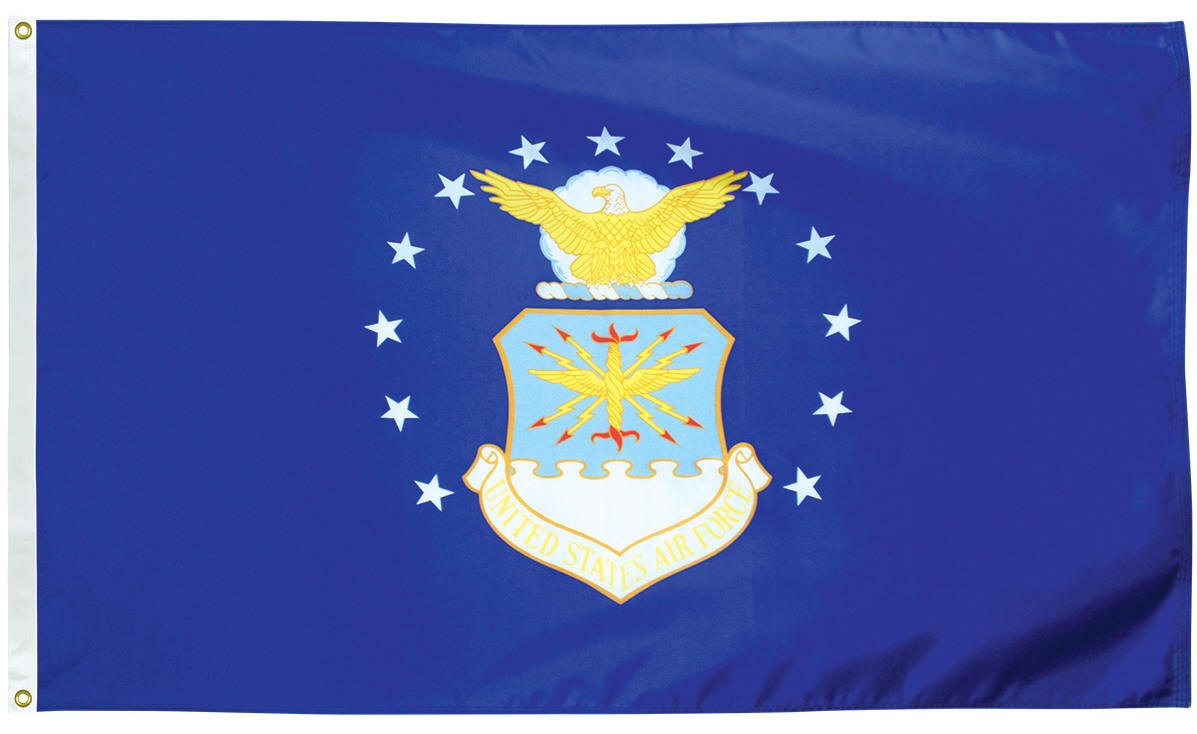 Officially Licensed Product
All are finished with heading and grommets for outdoor use
| | | | | | | |
| --- | --- | --- | --- | --- | --- | --- |
| 12x18" Nylon | 2x3' Nylon | 3x5' Light Polyester | 3x5' Nylon | 4x6' Nylon | 5x8' Nylon | 6x10' Nylon |
| #MILAIR12 | #MILAIR2 | #MILAIR3P | #MILAIR3N | #MILAIR4 | #MILAIR5 | #MILAIR6 |
| $15.95 | $32.25 | $24.50 | $47.95 | $61.75 | $102.95 | $193.50 |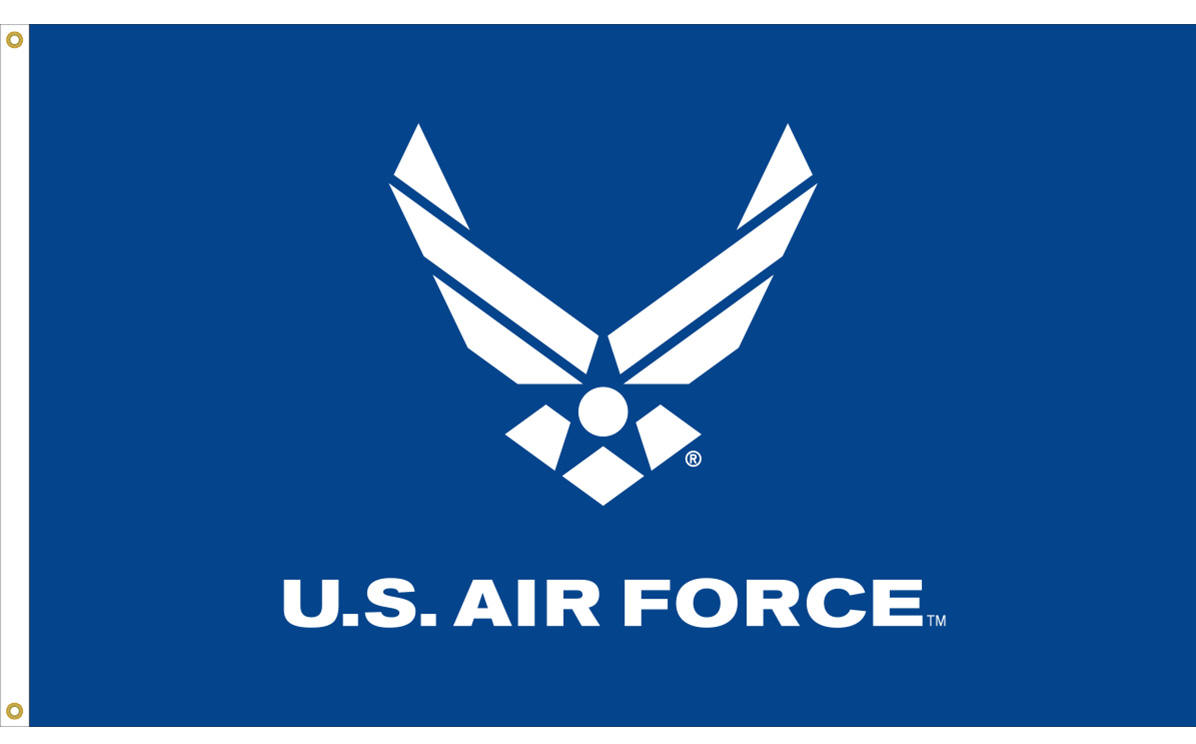 Air Force Wings 3x5' Nylon with heading and grommets
#MILN5 $39.00
United States Air Force Academy Flag 3x5' light polyester
#MILP12 CLOSEOUT PRICE $4.99 Limited to the one we have in stock
With heading and grommets