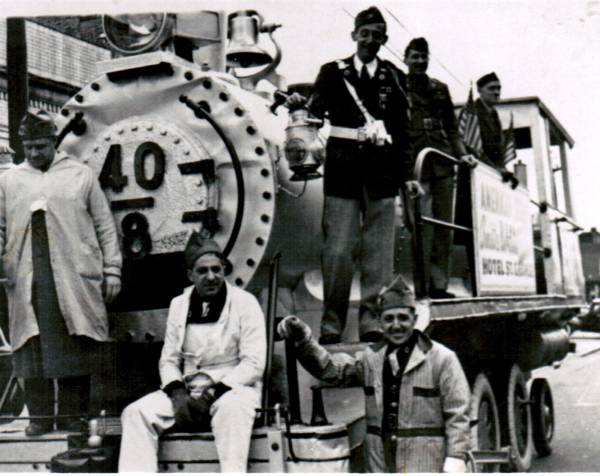 40 & 8 member my Grandfather Al Cavalari lower right in Brooklyn, NY early 1940's and below on his tractor at his catering business The Meadowbrook Lodge upstate in New Windsor, NY in the 1970's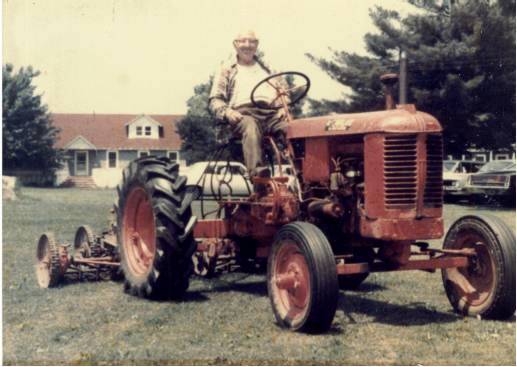 Back in 1991 a great 40&8 member from Florida contacted us to ask if an article about The Francis Hopkinson flag which he had seen in our catalog at the time could be reproduced in The Gandy Dancer. Some of you may remember it as a publication of Voiture 215 in Florida. Unfortunately the monthly magazine has ceased publication. But we became a regular advertiser and enjoyed reading its articles.
The 40 & 8 member, now sadly deceased, was a great guy. He was so enthusiastic about the 40 & 8 and explained to us the Flags For First Graders Program. "Would we be interested in being involved?" he wanted to know. Now there was a question. Would we? And how!
You see my grandfather was a 40&8 member. One of the fondest memories from my childhood is having this massive life size train to play on which was out in back of the family catering business. As kids, we thought it quite a strange bit of great luck to have such an unusual toy to to "drive." How odd! After all, who else had a "real" train to play on? Naturally, at the time, we kids knew nothing of the 40&8. But my grandfather knew plenty about it.
He was a WWI Navy veteran and 40 & 8 member (v-486 Chef de Train in Brooklyn, NY). And he knew an enormous amount about love of country because he was one other thing: An Italian immigrant who came here as an eight year old kid in the early 1900's joining the millions of poor immigrants pouring through Ellis Island in NY harbor.
Like so many others, he was fortunate enough to experience the American dream of prosperity through hard work in this land of unlimited opportunity which was good enough to take them in.
So when I was asked what we could do for the Flags For First Graders Program, I had a sentimental reason for wanting to come up with a way to participate.
The Deal: We were asked to suggest a low cost American flag, made in USA, suitable for mass give away. If you click this link, 4x6" Plastic US Flag, you will see the item I selected which has been used by Voitures nation wide since 1991. But as a 40&8 member, you get a special deal:

#ECO 4x6" Plastic US Flag on 10" plastic staff
MADE IN USA: Be careful about Chinese made US flags.
Attention: This Item Is Being Discontinued and is Limited to Existing Stock; Availability can change from one day to the next
Quantity
Price Per Flag
8 Gross (1,152 flags)
$.22 plus Shipping
The shipping cost needs to be quoted based on your actual physical address
10 Gross (1,440 flags)
$.19 plus Shipping
Above 8 gross, must order in five gross increments

I collect old post cards and I came across these

"Voiture Locale No. 1 Philadelphia, PA Our New Locomotive May 12, 1967"