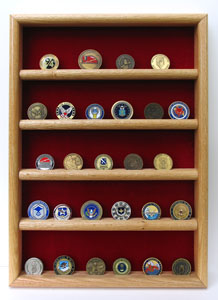 MADE IN USA
Style # CD800 Solid Oak Wall Mount Coin Rack $112.00
Dimensions: 22" h x 16" w x 2 1/8"

Holds up to 40 coins
This solid oak frame provides an ideal display for challenge coins. It is available in Oak and finished with a high-gloss varnish that treats and protects the wood, ensuring a lasting luster. Hand crafted for extra structural integrity, strength and durability.
The wall display is available with your choice of background fabric click here to view and has a lightweight, durable acrylic background on top of the fabric
Choose your own service appropriate actual service uniform background fabric for this wall mount coin rack.
The service fabrics used for the background of your coin rack are NOT imitations. They are the actual uniform fabrics.
Specify YOUR CHOICE of background uniform fabric
Navy Blue, Army Green, Air Force Blue, Marine Corps Blue, Marine Corps Green, Coast Guard Blue.
Velvets
Black, Navy Blue, Red, Maroon.