Page Title: Atlantic Fiberglass Flagpoles
Fiberglass flagpole comes with a cylinder that we call a "ground sleeve." In the first step of the installation, you concrete the sleeve into the ground. In the second step you lift the pole and insert it into the sleeve. The photo below shows the pole we have on display at our shop. I've intentionally left it unfinished so that you can see it at this stage if you stop by. By design, the sleeve diameter is greater than the pole diameter. To finish the job you simply fill the void with dry sand up to about a half inch from the top of the ground sleeve.

Fiberglass flagpoles are surprisingly light weight. I've always been able to easily lift a 20 or 24' pole by myself and put it in the sleeve. But use extreme caution. There is a big leverage problem working against you. Have a friend or two help you. MAKE SURE YOU ARE CLEAR OF ANY OVERHEAD WIRES OR TREE BRANCHES. If you are unsure about what you are doing, hire a professional!

Pack it tightly with a skinny metal rod you can get at a hardware store. The shims are used to plumb the pole. Make the shims out of treated wood. When you get the pole plumb, tap them in tight and cut them off. I've always then sealed the top off with roofing tar.

Fiberglass Flagpole Includes:

Revolving Truck with finial
Halyard
Two nylon snap hooks
Flash collar
Ground sleeve
Cleat
Instructions

Ground Sleeve Pole Prices:

Model
Height Above Ground
Overall Length
Dia At Base
Dia At Top
Suggested Flag Size
Price
GS 20
20'
22'
4.5"
2.5"
3x5'

$590

GS 25

24'
26.5'
4.5"
2.5"
4x6'

$690

GS 30

30'
33'
5.5"
2.5"
5x8'

$1,639

GS 35

35'
39'
5.5"
2.5"
5x8'

$1,945

Freight costs are additional and need to be quoted based on your zip code and delivery details. These can not ship UPS. They get delivered by common carrier.

Revolving Truck with finial as a replacement part (included with a fiberglass pole), for Tidaflag fiberglass flagpoles and Atlantic Fiberglass flagpoles

These trucks fit an outside diameter of 2.5" as currently manufactured

| | | |
| --- | --- | --- |
| Model # | For Pole Size | Price |
| #FGT1 2.5" | 20-35' | $79.00 |

CAUTION: CHECK THE TOP DIAMETER OF YOUR POLE. These trucks fit an outside diameter of 2.5". Original poles had a 2" diameter:

#FGTX 2" $119.00 for top diameter of 2"

Use extreme caution when lifting poles, especially near power lines & on windy days. Check for buried utilities and private services before digging. Touching a power line with a pole is a terrible idea and can cause injury or death! Even if a pole isn't heavy, there is leverage working against you. Use a crane or bucket-truck if need be.


Wind Speeds:

Flag sizes do not constitute a warranty that flags of the size shown may be safely flown in all winds. Remember that wind gusts can be greater than a storm's prevailing winds.
Flying greater flag loads or flying them in higher winds than rated may result in damage to the pole. Flags should be removed from any pole long before winds reach the wind speeds shown. SCROLL DOWN FOR IMPORTANT WIND CHART AND SAFETY INFORMATION

The pulleys that were once standard equipment on all flagpoles have been eliminated entirely. No need to worry about pulleys jamming or breaking. They have been replaced by machined and highly polished aluminum races that are set into a high-density polymer truck assembly. Best of all, this entire truck assembly revolves 360 degrees for unobstructed flag flying during the most changeable of breezes. Flags are less likely to hang up on the wrong side of the pole, and whether the wind is coming from the east or the west the truck assembly will swing to let the flag fly perfectly. Above the truck assembly is no ordinary finial. The painted or anodized metal ball has been rethought, resized, and replaced. No longer does the flagpole owner need to worry about the ball fading, flaking or pitting next to the blue sky. Instead, he can look up and always see a highly reflective, dazzling gold finial. The secret is in a high-tech process known as electrostatic plating. Gold paint is electrostatically adhered to the inside of a clear high density Plexiglas finial and because it is on the inside, this finish is not exposed to the elements.
Production Process: To understand the manufacturing process, envision a metal tube or pipe cut in half length-wise and then hinged back together. This is the steel mold. Instead of wrapping the fiberglass around a mandrel like other manufacturers and waiting for it to dry, we wrap the fiberglass and polyester around a rubber inflatable bladder and then place it inside the steel mold which is coated internally with gel-coat. The bladder is then inflated to high pressure inside the mold. All the air and excess material is forced to the outside and exits through this vent line. This creates the small mold mark you will see. Curing is continued at full pressure and the resulting flagpole is stronger, denser, lighter and longer lasting.
Factors to Consider When Choosing Your Flagpole
Strength
10,000 psi Tensile Strength
120 mph Unflagged Wind Rating
Highest Fiberglass to Polyester Ratio
Pressure Molded
Latest Aerospace Technology
Finish
Gel-Coat Finish
Never Chalks or Cracks
Revolving Truck, No Lubrication Necessary
The map below shows the maximum steady wind expected at an elevation of thirty feet above ground level within a fifty year period of recurrence. Areas with the same maximum constant or steady wind speed are indicated. Because wind speeds are usually not constant, and gusts are involved, flagpoles (both flagged and unflagged) are listed with a constant wind speed and a 1.3 gust factor. "Warning" - recommended flag sizes throughout this site do not represent a warranty that the flag size shown may be safely flown in all wind speeds. Personal injury, flagpole damage or property damage can occur when flying oversized flags and banners or flying flags in higher winds than recommended. Flagpoles and their associated wind speeds listed assume that ten percent of the overall length of the flagpole is buried per our recommendations at ground level. Special engineering may be required for other applications such as wall or roof mounted flagpoles. Consult an engineer or architect.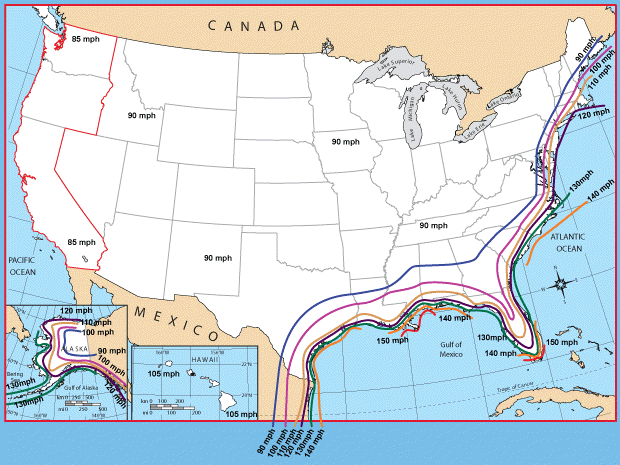 Design of safe flagpoles requires knowledge of the loads to which they will be subjected. Principal load acting on flagpoles is wind load and that load must be carefully determined. Maximum wind speeds to which flagpoles are exposed depend on geographical location, whether or not it is in the center of a large city, a small town's outskirts, seashore, at ground level or on the roof of a high building. Wind speeds are generally higher along coastal areas than inland. They are also higher in open country than in the center of cities. Wind speed also becomes greater as height above ground increases. Wind exerts a force on the pole as well as the flag, thus both loads must be added to determine total load. Flags of different sizes are designed to be flown from different poles. Obviously, it is important that flagpoles be selected which are capable of supporting the largest flag intended to be flown in the highest wind speed to which it will be subjected. Loads on flagpoles are resisted by the mounting foundation, roof or wall to which it is secured.
INNOVATION & TECHNOLOGY These are the two best words that describe the results of Atlantic Fiberglass Products entry into the flagpole market. Flagpoles have come a long way since the axe man returned from the forest with a 20' cedar on which to hang the family crest. Now the modern fiberglass pole is being transformed and refined into a state of the art product by Atlantic Fiberglass Products, Inc. A simple, but high-tech and carefully thought out solution to an old problem. Next, how do you trim the weight of a 20 to 40 ft flagpole, making them more manageable and easier to install, but still maintain high strength? To answer this question we have to understand that Atlantic Fiberglass flagpoles are made by using an innovative high strength method. Inside a steel clamshell mold, seven layers of reinforced fiberglass roving, mixed with a polyester resin is aligned in a vertical plane for maximum strength and placed on a thick layer of gelcoat. An inflatable bladder is laid the length of the mold. The mold is closed, the bladder inflated and the resulting pole is created by subtle inside pressure and slow curing during an exothermic chemical reaction. The result, a lighter weight, stronger, more slender and graceful flagpole on the market today. So strong in fact, that tensile strength is 50,000 pounds per square inch. Each pole is rated to withstand wind speeds of 120 mph. These are only the major innovations. The predrilled and stainless steel inserts for the cleat bolts, the optional internal halyard winch, and the optional hinge base are the frosting on the cake.
DESIGN AND BEAUTY All of our flagpoles are molded in one piece, using the beautiful Greek Entasis taper design - the classical shape of a candle.
MAINTENANCE FREE Our fiberglass flagpoles will not pit, corrode or rust. This is extremely important near salt water or in rugged weather conditions. Unlike wood that can rot. or aluminum that discolors and pits, our flagpoles have an ultra-hard gel-coat finish that is impervious to all weather conditions.Brilliant white, pre-cast gel-coat finish
REVOLVING TRUCK All poles come with a special designed, high quality, revolving-truck as standard equipment.
10 Years Limited Warranty
Atlantic Fiberglass Products, Inc. warrants that its fiberglass flagpoles will be free from defects in materials and workmanship, under normal use, proper installation, and responsible care for a period of ten years from date of first shipment to the original owner.

Atlantic Fiberglass Products, Inc. further warrants that during use by the original owner after proper installation and responsible use, all residential and commercial flagpole shafts will withstand wind gusts up to 120 miles per hour, unflagged. The use of oversized flags will negate this warrantee. As well, in the event of extreme weather conditions such as hurricanes, monsoons, tornados etc. it is the responsibility of the owner to remove all flagging in advance of the bad weather.

THIS WARRANTY IS EXPRESSLY MADE IN LIEU OF ANY AND ALL WARRANTIES EXPRESSED OR IMPLIED, INCLUDING THE WARRANTIES OR MERCHANTABILITY AND FITNESS.

The exclusive remedy of the Buyer in the event that any of the goods do not conform in accordance with the above warranty, shall be limited to replacement or repair of the item or parts claimed to be defective. All goods claimed to be defective must be shipped to Atlantic Fiberglass Products, Inc. Such goods will be returned, repaired or replaced within a reasonable time period and this shall constitute a complete discharge of the seller of any and all liabilities or damage for such goods.

Atlantic Fiberglass Products, Inc. shall not be responsible for removal, installation, shipping costs, or any incidental or consequential costs. Atlantic Fiberglass Products, Inc. acceptance of the goods, so shipped, shall not be deemed an admission the goods are defective.

In the event that any of the goods are found to be defective, in addition to waiving its rights to consequential or incidental damages, the Buyer expressly waives all rights to any and all damages, what so ever.
The url for this page is http://flagguys.com/fiberglass.html