You've seen this iconic image. Gen. MacArthur is speaking on the battleship Missouri in Tokyo bay, Sept. 2, 1945. This is Japan's unconditional surrender to end WWII. We never noticed the flag on the bulkhead behind him. Then a customer told us about the amazing story of how it came to be there and urged us to make it. Here it is.

The story begins on July 14,1853. Then Matthew Perry carried this 31 star flag to Tokyo bay in command of a squadron sent to secure a treaty with Japan. His success lead to formal diplomatic ties, access of ports by American ships, aid for shipwrecked American sailors, commercial trade and the opening of Japan to other Western nations. Now, 92 years later, the flag was back. This time it was with Perry's cousin, General Douglas MacArthur! An officer courier had delivered it. His 9,500-mile trip took 120 hours and covered 12 time zones. When he was done he slept for two days. The orders were to keep the wooden box containing the flag in his site at all times. He slept with it, ate with it and took it with him in the bathroom. It had been in the museum at Annapolis where conservators had mounted cotton to its mildew damaged front side to prevent the flag from breaking apart any further. The surrender lasted about 25 minutes.

Historical info from Navy Dept. Library, Naval Historical Center, Wikipedia and Fly Boys by John Bradley. .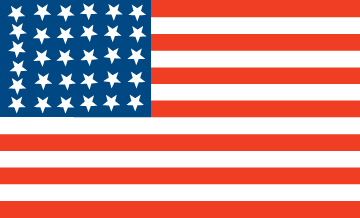 Matthew Perry Flag #H136 $49.00
3x5' Nylon with sewn stripes and dyed star field, heading and grommets. Our replica captures the charming "less than perfect" star fields common in 19th century flags when there were no standard designs. Notice how they stuffed the extra star into the first column.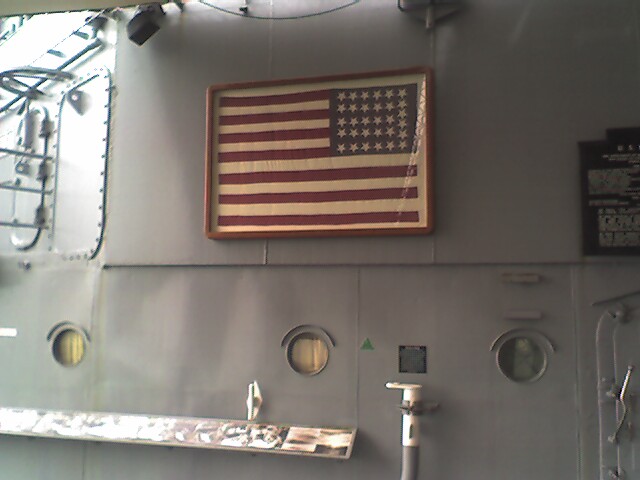 Here is a replica on the Battleship Missouri veranda deck today right where it was back then