---
Page Title: White-Blue-White-Flag aka Russian Anti-War Flag A New Flag is Born
These images are from around the world. Brave people are being arrested for showing this flag in Russia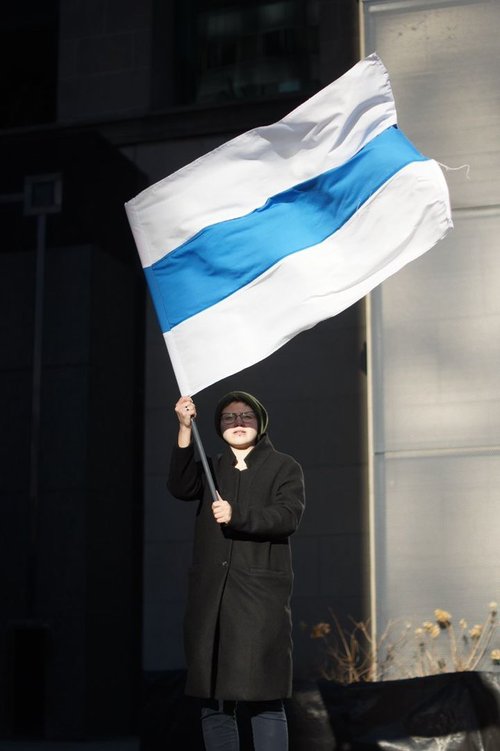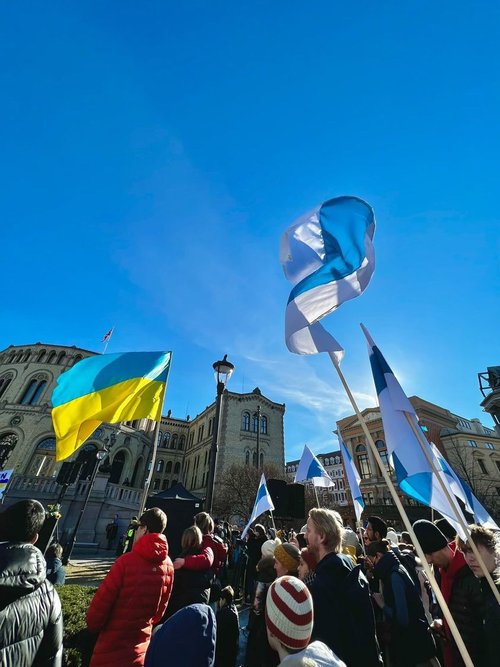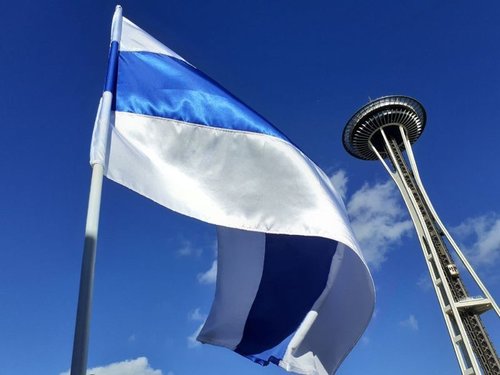 White-Blue-White Russian Anti War Flag #H236

Nyon with sewn stripes, heading and grommet

s, MADE IN USA Other Peace Flags
| | | | |
| --- | --- | --- | --- |
| Size | 3x5' #H236 | 4x6' #H2364 | 5x8' #H2365 |
| Price | $34.00 | $59.00 | $89.00 |
See also: white blue white windsock
At the last meeting of the Portland Flag Association, I told the group I was trying to think of a flag to fly that could show support for those brave Russians who, at great personal risk, are defying their government by protesting the invasion of Ukraine. There was complete agreement that the official white-blue-red flag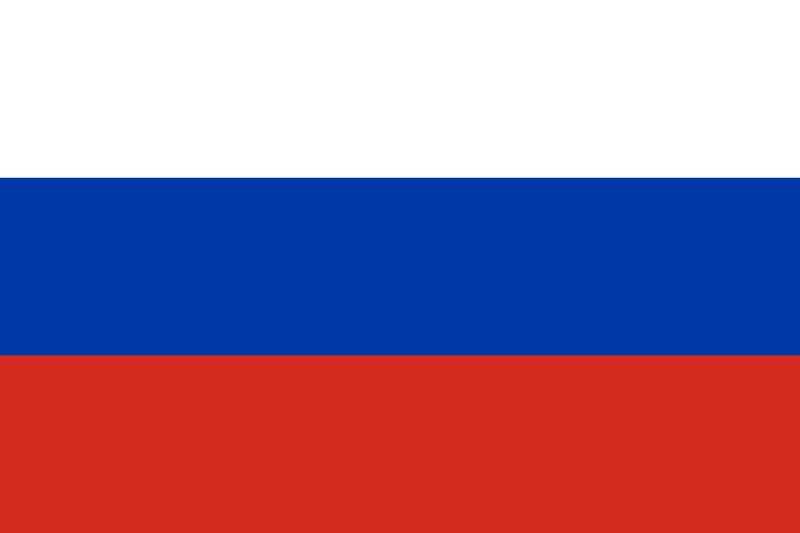 of Russia would not work
A Portland Flag Association member suggested that a different flag would have to emerge organically as a result of a popular movement. Such a flag has emerged
Wikiepedia:
This white-blue-white flag emerged spontaneously shortly after the invasion of Ukraine. Around the world people took to the streets to demand that Russian troops go home. This flag began to appear alongside Ukrainian flags at those anti war demonstrations. Wikipedia says that several people independently thought of the same idea for this Russian Anti War Flag: It is the Russian flag with the "bloody red stripe" removed. The modern white-blue-red flag is said to be a militaristic symbol of Tsarist Russia and associated with its military power and violence. Removing the red stripe removes not only the stain of blood but also that symbol of authoritarian power.
Meduza
The Russian and English language news website Meduza based in Latvia also reports that advocates of the white-blue-white flag say "Russia's traditional tricolor flag is tied to bloodshed. Medusa reports a Russian citizen living in Berlin had been protesting the war with a hand held sign identifying himself as Russian. Other Russians were also carrying signs saying that they are Russian but oppose the war their country was conducting. They realized that they needed a unifying symbol.
They adopted this new flag "without the bloody red stripe" and posted it on Facebook. That symbol has spread.
Other Russians both at home and abroad also came up with the same idea. As they discovered each other there has been widespread agreement among them that it does not matter who created the flag. Rather, the flag is a "joint creation by the people. A truly collective protest. A lot has been done by different people, all independent of each other."
The Free Russia Forum, a conference of Russian opposition members held yearly in Lithuania, called the flag "The Flag of Freedom and Peace". According to this viewpoint, the white-blue-white flag represents a new page in the history of Russia. It is a symbol of people joining together. Protestors have shown their solidarity with the Russian resisters by making and displaying this flag all around the world. It is not meant to be a design for a new national flag of Russia. It is not a symbol of The State.
It is a symbol to unite people everywhere in opposition to Russia's aggression.
Principles of Vexillology
Meduza reports that activists have the basics of good flag design on their side.
Keep it simple. A child should be able to draw if from memory. The White-Blue-White flag is easy to recognize in a crowd and is easy to remember. Once you see it you don't forget it. Adherents of the flag told Meduza that the flag's ability to be replicated "under any conditions" is part of its ideology. "A flag should be simple enough for anyone to sew or make with paper."

Use meaningful symbolism. The absence of the red stripe calls for elimination of bloodshed. The is no place for militarism or a cult of violence. The white color represents peace and purity; blue represents truth and justice. Also as part of its ideology, no specific shade of blue is called for. There is some thought that a shade of blue lighter than that found in the Russian national flag is good in order to create an additional difference between the two.

Use 2 or 3 basic colors; simplicity can make a flag more effective. Few colors make the white-blue-white flag easy to make at home and easy to recognize.

No need for lettering or seals on a flag. Flags should be able to flash their message while flapping in the wind and when seen at a distance. Flags never stand still for people to read them. They are not signs. Think of the centuries before radio communication when flags were a critical communication device at sea. Ships relied on them to flash messages and identification for miles based solely on their designs. It was all done without letters or words that no one would be able to read anyway.

Be distinctive or be related. The Flag of Free Russia, as it is sometimes called, is both! No other country uses the white-blue-white flag design. And it has symbolic connections to other flags and history important to Russians. Its colors resemble the flag of the modern day city of Veliky Novgorod which evolved out of the Novgorod Republic from the 12th to 15th centuries that is sometimes described as "the cradle of Russian democracy" or likely the only democracy that Russia has ever had. It also relates to the white-red-white protest flag of Russia's neighbor Belarus.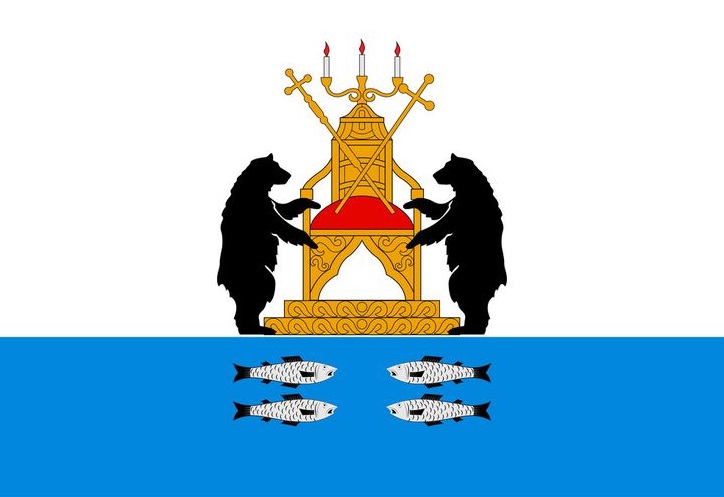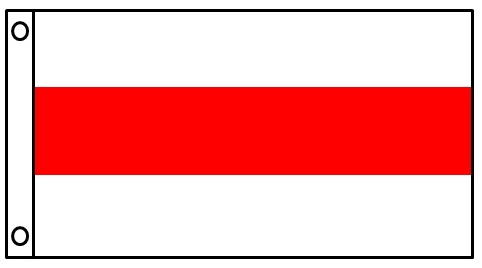 Flag of Veliky Novgorod Popular Protest Flag of Belarus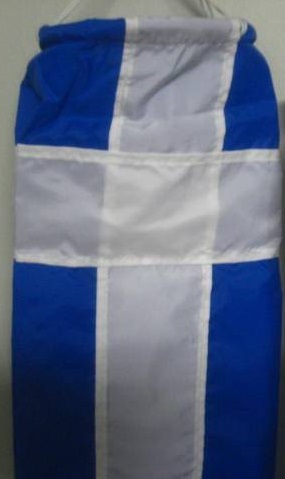 30" White Blue White Windsock
#BSOCK $9.95 each
$6.95 each for two or more