The TankTM wall thickness
The TANKTM US Flag Kit

At left: This picture says it all. Just take a look that the wall thicknesses of these two poles. The TANK pole is on the left. A standard 1" aluminum pole is on the right. The TANK has a one piece 6' highly polished silver aluminum pole with an unprecedented wall thickness of 1/8".

At right: Look at this moose of a bracket. Highly polished solid aluminum "star bracket" is extra strong. Its unique design sets it apart from any bracket we've seen. It comes with 1.5" mounting screws.

It protrudes out from the wall about 3 3/8", the barrel is about 3.5" deep.
The precision machined gold anodized solid aluminum ball ornament is threaded on to the top of the flagpole and is secured with a stainless steel set screw.
Notice the anti-furl collar system. Your flag attaches to the collar with the split ring. The flag is not fixed to the pole, it is attached to the collar that rotates around the pole. Each collar is held in place with three allen head set screws. An allen head wrench is included with each kit.
IF YOUR GOAL IS TO HAVE THE MOST EFFECTIVE ANTI WRAP FLAGPOLE, DO NOT GET THIS KIT. Every kit has an advantage and disadvantage. It's advantage is strength. The Tank kit has the highest tech machined look and many find its precision ornament, gleaming finish and designer bracket the preferred choice. The antiwrap system is OK but not as effective as the sleeved kit system directly below:
The TANKTM hardware includes:
Aluminum pole, 6' x 1" diameter, 1/8" wall thickness
Solid aluminum ball ornament
Furl reduction collar with retaining rings
Hefty star bracket, screws
The TANKTM American Flag Kit is offered FOUR ways:
Note: As great as this kit is, the distributor is discontinuing it. When current inventory is gone there will be no more.
#K20 $228.00 with our EagleTM Nylon US flag
#K28 $238.00 with our Iron ManTM Two Ply Polyester US flag
#K27 $239.00 with our Signature Nylon US Flag
#WBT $205.00 Everything in the kit EXCEPT a flag. Buy this if you have your own 3x5' grommeted flag.
At right: The TANKTM kit is shown fully assembled with a 3x5' nylon flag.
It is easy to assemble.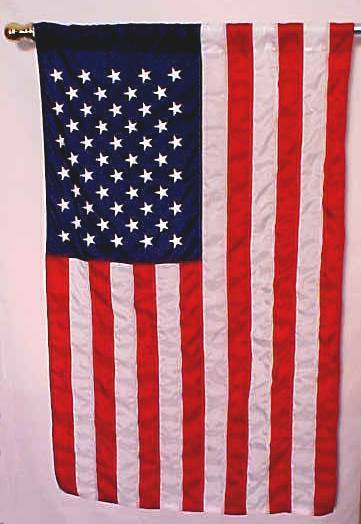 Sleeved American Flag Kit with rotating flagpole

#K11 $69.00 two kits for $120 With Nylon Flag

Kit Includes:

2.5 x 4' nylon flag with embroidered stars, sewn stripes

5' x 1" Non Rusting Revolving Aluminum Pole

Heavy Cast Metal Two Position Bracket
Budget American Flag Kit: This is a very nice low cost kit meant for front porch type use

#WPEF $114 per BOX OF 6 KITS. Shipped only in full boxes of 6 kits

We are selling it WITHOUT A BRACKET to include:

Wood pole: 5' long, 15/16" diameter with wood ball and antiwrap tube.

American Flag: Dyed nylon approx 2.5'x4'

THIS PRICE DOES NOT INCLUDE A BRACKET

But no so fast! Usually "budget" means the lowest quality, entry level flag. This one does have dyed stars and stripes. BUT it is a nylon flag.

Most low end kits have a light weight polyester flag. Nylon is a nice step up.

TRUTH IN ADVERTISING. A word on antiwrap tubes: People hear the word "antiwrap" and then they expect their flag never to wrap. There are all kinds of antiwrap systems. This is the simplest type there is. It is a very basic concept and it is hardly foolproof. But for the money and given the unusually nice quality of the nylon flag in a kit of this price range, it is a lovely value. Ball bearing systems are far better but much more costly. We sell two types of those also.
The sleeved flag has a tab inside that attaches to the hook at the top of the pole
Need a bracket? Here is our most basic stamped steel bracket
#WB6VF $3.50 each, with three screws (I got lazy and only installed two screws for my photo)