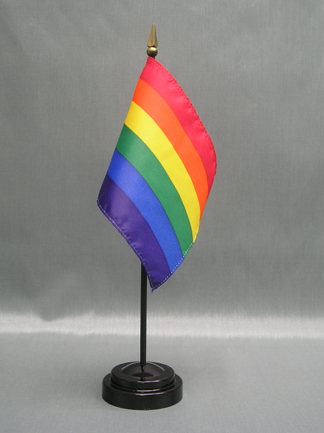 Rainbow Hand Held Desk Flags 4x6" on 10" staff
Rainbow Desk Flag, Pride Desk Flag 4x6" hand held flags mounted on a 10" spear tip staff. Base sold separately. Click here for pricing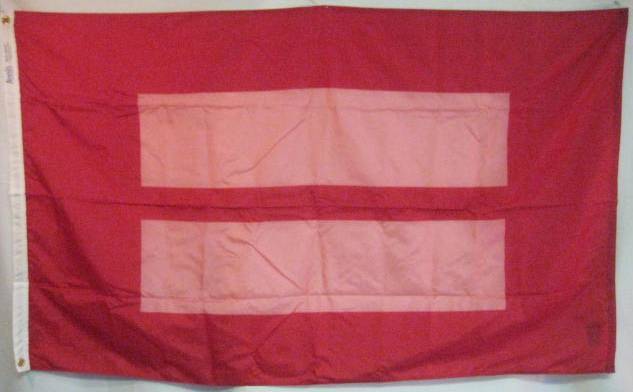 Marriage Equality Flag 3x5' dyed Nylon #NOV48 $32.00
This from Wikipedia:
The rainbow flag was popularized as a symbol of lesbian, gay, bisexual and transgender (LGBT) pride and diversity by San Francisco artist Gilbert Baker in 1978. The different colors symbolize diversity in the gay community, and the flag is used predominantly at gay pride events and in gay villages worldwide in various forms including banners, clothing and jewelry. For the 25th Anniversary of the Stonewall riots, held in 1994 in New York city, a mile-long rainbow flag was created and post-parade cut up in sections that have since been used around the world.

The flag was originally created with eight colors, but pink and turquoise were removed for production purposes, and since 1979 it has consisted of six colored stripes. It is most commonly flown with the red stripe on top, as the colors appear in a natural rainbow. Aside from the obvious symbolism of a mixed LGBT community, the colors were designed to symbolize: life (red), healing (orange), sunlight (yellow), nature (green), harmony (blue), and spirit (purple/violet).The removed colors stood for sexuality (pink) and art/magic (turquoise).
The url for this page is http://flagguys.com/rainbow.html