My fine quality California State mounted flag set comes to you with the flag and spear all attached on the dark oak finish pole. Just screw the two pole halves together and insert into the floor stand.
#35SETCA $405.00 (due to its size, weight and multiple cartons, add $22.00 extra shipping charges to the normal shipping cost shown on our order form)
Set includes:
3x5' silk-screened silky nylon fringed flag of single/reverse design; the image reads correctly on one side and in reverse on the back.
Pole #WP84: 1.25" x 8' not including the spear.
#ORNBE Bear Ornament 5.5"x2"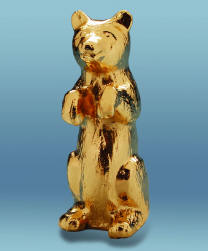 Floor Stand #FS1: 12", 11lb Matte Gold Anodized Aluminum Shell over weighted solid inner core filled with concrete.
Cord and Tassell Set #CT5: 5" x 9'
Flag Spreader #SPR
Ceiling clearance needed is almost 9'
I do not use plastic ornaments or plastic sand filled floor stands in my sets. Careful of those sand filled stands. If you bang the stand and crack it, the sand will pour out
I also iron my flags before I build a set. Then the flag is rolled around the pole to remove the roadmap type lines from being folded.
CLICK TO ENLARGE: Your flag will NOT look like this one.

I iron your flag before I mount it. This is how a flag looks right out of the box. Sure it is an extra effort to iron your flag but would you want it looking like this on display? I iron it, mount it, and then it ships rolled not folded.
I supply a flag spreader with my sets. Without the flag spreader, a flag set looks like this:

With a flag spreader, a flag set looks like this: