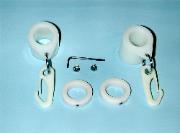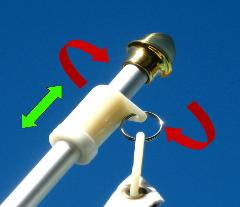 Never Furl Anti Wrap Collar Sets: Include the things you see here. You get easy to understand instructions, a diagram and even the allen wrench to turn the set screws in the collar ring.

Some things we sell are not returnable. Never Furl kits and parts are not returnable. Check your size

Model #
For Pole Dia
Color
Price
NF3
3/4"
White
$19.95
NF3B
3/4"
Black
$20.95
NF1
1"
White
$21.75
NF1B
1"
Black
$21.95
NF12
1.5"
White
$26.90
NF12B
1,5"
Black
$29.50
NF2
2"
White
$30.50
NF3X
3"
White
$56.50
These are used to attach the flag to the pole and help prevent "flag wrap." They come with easy instructions and even the little allen wrench you need to tighten down the screws. The flag's grommets simply slip onto the snap hook. By the way, through the years we've seen loads of gizmos and doodads that are designed to prevent a flag from wrapping around its pole. Nothing eliminates that problem 100%. But the Neverfurl is the best we've seen in this price range. We sometimes call it the "almost never furl." It is a great product and has been wonderfully effective at our shop.. And at least if your flag does wrap, it still has the chance to unwrap once the wind works on it a bit.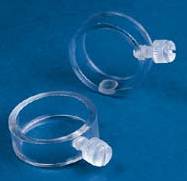 INSTRUCTIONS:
1)Put the ring on the pole like you put a ring on your finger
2) Unscrew the thumb screw
3) Put the screw through the grommet
4) Screw the screw back into the ring and tighten it so it bears down on the pole. The thumb screw holds the flag.
EZ Mount flag rings

#EZ3 for 3/4" pole

#EZ1 for 1" pole

$1.50 PER Ring

These are NOT rotating collars. They are reusable flag rings that attach through the flag's grommets and eliminate the need for string or cable ties.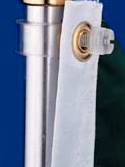 EZ Mount rings