Why we sell Southern flags:
The short answer is that we don't prejudge people who want to own one.
Everyone knows the antagonistic purposes for which these flags are often used. Every other kind of flag we sell can be used for those purposes. I have seen Christian, US Marine Corps and American flags used that way. Through the years, we have gotten to know many people of good will who do not support those purposes but own these flags in the context of creating a connection to their forbears and the place they call home. As other flags all around the world, Confederate flags are used to identify a sense of place, spirit, family, belonging and community. Some people buy them not even for display but just to keep.
Every symbol has at least two meanings.
There is the meaning intended by the one who displays it and the meaning understood by the one who views it. "Your" flag, wherever you come from means something good to you but something very different to someone else.
Symbols also shift back and forth in meaning through the generations.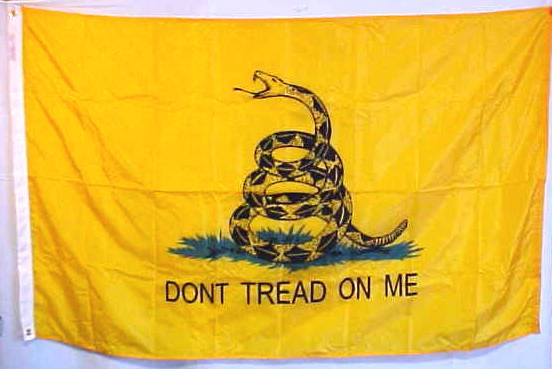 This is the Gadsden Flag . It is not "The Tea Party Flag." For more than two hundred years it was simply a flag from the American revolution and people could fly it just for its historical novelty. Since it became widely used by The Tea Party, most people now think it was created by that movement and assume people who have always flown it are adherents of that movement.
For many decades the Confederate flag was a pop symbol of youthful energy, country living and rebellious spirit as it adorned lunch pails, school sports teams, album covers and a popular TV show. During that time, it was also brandished the day a screaming crowd of adults made a sixteen year old girl cry on what should have been her first day of school at Central High School in Little Rock, Arkansas. Context is everything.
Southern flags are used by Civil War reenactors portraying Southern troops. We have provided them to teachers for classroom use.
Slavery
The historical connection of both the Confederate flag, and of our American flag, to the buying and selling of human beings and of the degradation of black people is undeniable. Focusing rage on Southern flags creates for some folks a comfortable though incorrect narrative of good and bad. North good, South bad. It obscures the uncomfortable historical blame shared by people from all sections of our country at the time of its founding for arranging the promise of America for some people while denying it to others. The founding of our country is a story of both liberty promised and liberty denied. It is an era that witnesses the expansion and defense of liberty concurrently with the expansion and defense of slavery.
Flags matter and people are very passionate about them.
Throughout more than 35 years in this business we have been at various times criticized for selling or displaying the flags of Israel, Puerto Rico, Black Lives Matter, and Ireland to name a few. We provide on this web site Vatican flags, Rainbow "Pride" flags, Democrat and Republican flags and flags from the Presidential campaigns of Obama, Trump. Biden and Hillary Clinton. We provide Political Flags We provide flags of all nations. We provide Peace Flags. We provide a diversity of flags and we hope that they will always be used with good will.
Followers of our web site know that we have made a niche in providing flags of American history. The War Between The States is one of the most significant periods in that history and the flags on this page are offered in that context. Long ago, those young men who fought that war came back to Gettysburg as very old men. There, in their last years on earth, they shook hands across the stone wall which marked the end of Pickett's charge. Look in the Ken Burns series. There is film of them doing so. Would that we could all do the same. The small book we carried, now sold out, about Elmira Prison Camp, told the story of the escaped slave who, in his job of conducting the burials there, personally saw to it that thousands of Confederate soldiers, who perished in "The North's Andersonville", received a decent burial here in New York State. He made sure that their names and grave locations were carefully recorded. He knew that someone would want to know where they are. We could all take a lesson from that man's humanity.
They were Confederate soldiers. He knew they were some mother's sons. Those sons of The South now rest here in New York State. Now they are now our sons too.
We provide historical flags, and books on historical flags, from both the North and the South. That is what we have done since 1977.
Confederate flags for sale. Where can I buy Confederate flags? Here:
Confederate Battle Flag Sewn Cotton Confederate Flags Nylon
Slavery: Its Connection to American And Confederate Flags
If you believe the war "had nothing to do with slavery", read it from their own words.
A Southern View of the Invasion of the South by the North and the War of 1861-65
By Captain S. A. Ashe in 1935. Ash was the last surviving commissioned officer in the Confederate Army. He is honest and accurate regarding The South's position on slavery and the protection it was losing under The Constitution.
We have no more copies of this book but if you can find one it is worthwhile. It makes the same points made by Jefferson Davis in his giant two volume work

Click to enlarge
The 18th century founding of The United States saw the rise and the defense of liberty at the same time as the rise and defense of slavery
Things to look up, a partial and evolving list:
1777 June 14th Congress creates the American flag. Under it...
1787 Our constitution is created. Without ever using the word, it protects and guarantees slavery in all of our states. The delegates debate the slavery issue intensely and bluntly. Some of the most passionate advocates to end the slave trade, (but not slavery) come from Maryland and Virginia. Gouvernor Morris of Pennsylvania talks about freeing the slaves, making them citizens and letting them vote. Other delegates make the case that slavery is the basis of their wealth and power. It means jobs, industry and people in their states would never be so "foolish" to give it up. Make it illegal in the new Constitution and you will lose half your states. Other Northern delegates advise just leaving it alone. You can read the transcript by searching "James Madison's notes."
1790 Congress creates The first Naturalization Law limiting citizenship to "free white persons."
1793 Fugitive Slave Act: People escaping slavery must be returned. Those captured are brought before a judge and, with out a trial, are sent into slavery based merely on a sworn affidavit that they are someone's property. Free blacks are sometimes rounded up and send into bondage.
1850 Fugitive Slave Act: A new harsher version. You could be ordered by the government to assist in the search for and capture of people escaping slavery. Penalties are harsher.
1857 The Supreme Court Dred Scott Decision affirms that the US Constitution was not meant to include citizenship for black people and that its rights and privileges do not apply to them.
1858 Lincoln-Douglas debates. Abraham Lincoln states that he is not in favor of social or political equality of white and black races. He declared himself against black people voting, serving on juries, holding office, and intermarrying with whites. As reported by Snopes, historian Eric Foner stated that while Lincoln hated slavery, he shared the prejudices of his society. As President, Lincoln came to favor emancipation with recolonization: black people should be freed but then deported.
1860 December, South Carolina is the first to leave the Union. Just as the 13 colonies issued a Declaration of Independence explaining their reasons for leaving the British empire, each Southern state issued documents explaining their many reasons. JUST LOOK THEM UP AND READ THROUGH THEM. Texas and South Carolina are particularly clear. These documents contain many honest and blunt explanations of slavery and black servitude being an important cause, though not the only cause, of secession.
It is not true that war had "nothing to do with slavery."
1861 January, Jefferson Davis' farewell speech in the US Senate. IT IS A MUST READ. In a very moving speech, he points out that The Constitution established slaves as property and yet Southern states were being denied the protection of the constitutional rights to that property. These rights being threatened, his state of Mississippi must leave in spite of the affection felt based on the shared sisterhood and lineage of the several states. In 1881 he publishes a massive 1500 page work The Rise and Fall of the Confederate Government. I read the whole thing. He just lays it all out.
All the above happened under the American flag.
March 1861 The First National Confederate flag is created.