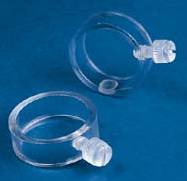 EZ Mount Rings INSTRUCTIONS:
1)Put the ring on the pole like you put a ring on your finger
2) Unscrew the thumb screw
3) Put the screw through the grommet
4) Screw the screw back into the ring and tighten it so it bears down on the pole. The thumb screw holds the flag.
Click to see flag and banner clips
EZ Mount flag rings

#EZ3 for 3/4" pole $2.00 PER Ring

#EZ1 for 1" pole $2.00 PER Ring

These are NOT rotating collars. They are reusable flag rings that attach through the flag's grommets and eliminate the need for string or cable ties.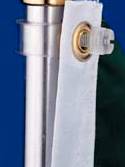 EZ Mount rings